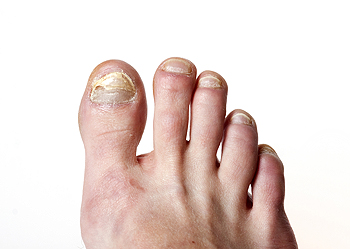 Simply put, nobody wants to develop a case of toenail fungus. This is because toenail fungus can negatively impact the color, texture, and odor of the toenails. When a patient has a case of toenail fungus, they often want to know what signs they should be looking for that might indicate that the toenail fungus is dying. It is important to remember that just because these signs might be present, this does not mean that a patient should immediately discontinue using any medication that their medical professional provided them. Some of these signs include a decline in the discoloration of the toenail. The toenail might slowly start getting less and less yellow, white, black, or brown. Additionally, another important sign to look for is the diminishing thickness of the toenail. Lastly, a sign that a case of toenail fungus is dying is that a new nail is growing in a healthy state. Contact a podiatrist today if you want to treat your toenail fungus.
For more information about treatment, contact Dr. Dean D. Hinners of Illinois. Our doctor can provide the care you need to keep you pain-free and on your feet.
Toenail Fungus Treatment
Toenail fungus is a condition that affects many people and can be especially hard to get rid of. Fortunately, there are several methods to go about treating and avoiding it.
Antifungals & Deterrence
Oral antifungal medicine has been shown to be effective in many cases. It is important to consult with a podiatrist to determine the proper regiment for you, or potentially explore other options.
Applying foot powder on the feet and shoes helps keep the feet free of moisture and sweat.
Sandals or open toed shoes – Wearing these will allow air movement and help keep feet dry. They also expose your feet to light, which fungus cannot tolerate. Socks with moisture wicking material also help as well.
If you have any questions please feel free to contact one of our offices located in Metropolis and Eldorado, IL . We offer the newest diagnostic tools and technology to treat your foot and ankle needs.
Read more about Toenail Fungus